You already know that roller skates make a great gift for Christmas. What if your skater already has their own skates, or you want to give them a little something extra to go with it? Check out our Roller Skating Holiday Gift Guide from Skate World Center in Tallahassee, FL!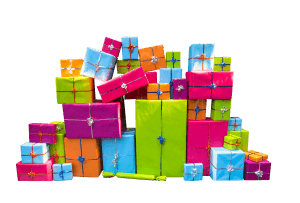 First of all, don't hesitate to gift another pair of skates. It's always handy to have extras in case of loss or damage. You never know–maybe your skater has been dying for a new pair without saying anything. There are plenty of accessories that go with roller skating, as well. Look at something boring but important like a helmet or knee pads, or something more fun like special skate socks or new laces.
There are also plenty of fun treats for the roller skater in your life. Totes and bags are fun way to show off their hobby, and also useful for carrying their skating gear. T-shirts or jewelry, like charm bracelets, earrings, keyrings, and more, will show that you care about their interests.
We're super serious about gift-giving here at Skate World Center, so we're proud to announce our new pro shop special for 2017: if you buy a pair of skates from us, we'll give you a Skate World Center gift card for the same amount you spend! We offered this special last Christmas, and the response was so positive we just had to do it again. Come check out our pro shop anytime we're open, and give your favorite roller skater a double gift of their own skates plus plenty of time on the skate floor!