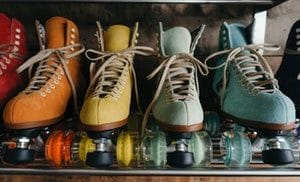 If you love to roller skate with us here at Skate World in Tallahassee, you've probably already bought your own skates. There are lots of reasons to buy your own skates: Saving money on skate rental fees; getting the exact type of skate that's right for you, whether that's a speed skate, jam skate, artistic skate, or inline skate; and last but not least, the fun of getting to express yourself through your skates!
How to Customize Skates
There are as many ways to style your skates as there are skaters, so rule number one is that there are no rules! But if you're wondering how to get started, we've got you covered with some ideas. Check out these tips and learn how to customize your roller skates.
Change the wheels.
Skate wheels come in a wide variety of thicknesses and multiple sizes. The wheels you choose will partially depend on your skating activities (indoor or outdoor, leisure skating or roller derby, jam skating or speed skating, etc.) and partially on your preferences, but you can also find wheels in every color of the rainbow and then some. There are even glow in the dark skate wheels! Which brings us to…
Add skate lights or glow elements. 
Picture the skating rink on a Friday or Saturday night: Lights low, music pumping, mirror ball spinning. Now think about how cool it would look to zoom around the rink on glowing wheels! There are tons of products to help you shine on the skating rink, including glow in the dark and LED lighted wheels, skate lights that mount underneath the plate (similar to underglow lights on a car), and even light-up shoe laces.
Add or swap out other accessories. 
There are so many other accessories you can add to change both the look and function of your skates. For instance, toe stops and jam plugs come in pretty much any color you can think of, including glittery options! The same goes for laces, which are widely available in a huge range of colors, patterns, textures, and lengths. Boot covers don't just protect the toes of your skates from getting scuffed; they also come in tons of materials, from pastel suede to shiny, studded models. Boot covers are another smart way to protect your skates while adding personal style; you can make your own skate boot covers fairly simply if you have basic sewing skills. You can even tie pom poms, charms, or wings onto your skates for a finishing touch. (Just make sure they're designed to be worn with skates and will not pose a safety hazard.) 
We'd love to see how you personalize your roller skates! Be sure to follow us on Facebook and share your photos next time you're at the rink.