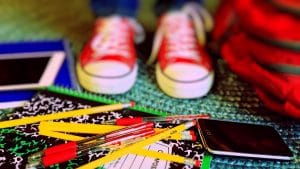 With a new school year ahead of us, many families are figuring out how to adjust and get back into the swing of things. Fortunately, with a few tips you and your kids can roll into the new school year right and have a blast.
Plan Fundraisers Early
If you're in charge of fundraising for the PTA, school sports teams, class trips, or any other school club or activity, the time to plan your next fundraiser is NOW! Don't wait until the last minute to book your roller skating fundraiser; get it on the school calendar as soon as possible to ensure a good turn out from students and their families.
Stick to a Routine
Lazy summer days are fun, but that laid-back attitude won't work as well during the school year. Regular bedtimes (for kids AND parents) can help keep everyone energized and in a good mood. Let kids know when they're expected to do chores, homework, play, or go to after-school activities. Consider keeping a nice big calendar in the kitchen or mudroom so everyone can see what's on the docket for the week. It's also important to make time for fun, so schedule a weekly family fun night where the whole family enjoys an activity together. Skating at Skate World Center is a great option if you're looking for affordable family activities in Tallahassee!
Keep the Fun Alive
Speaking of keeping the summer fun going year-round, it's important that friendships don't get pushed aside with the demands of school, sports, and other activities. Make sure your kids are getting the social interaction they need by scheduling a roller skating playdate! And remember, the Kids Skate Free program lasts all year, so your kids can skate their hearts out without hurting your wallet.
Ready for a fun school year? You bet! Contact us to learn more about our school fundraisers and field trips in Tallahassee.