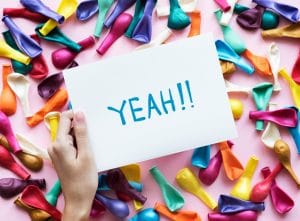 Birthdays should be special, whether you're 6 or 60! If you're looking for a fun birthday idea in Tallahassee, you're in the right place. At Skate World Center, we host the best parties in Tallahassee, making party planning easy for you and fun for everyone. 
Party Activities Guests Will Love
Why settle for a boring party when you can have an action-packed day at Skate World? In addition to roller skating, we also offer an indoor playground for kids 10 and under, and an arcade full of new and classic games that parents and kids alike will enjoy. From racing around the rink to busting a move to your favorite songs, there ain't no party like a Skate World party!
Birthday Parties Made Easy
Our birthday party packages make entertaining a crowd easy as pie (or if you prefer, birthday cake). We provide the party room, food and drink, tableware, and a party host to ensure your event runs smoothly, allowing you to relax and enjoy the festivities instead of worrying about refilling drinks or cutting the cake. Plus, you get to pack up the presents and go home at the end without having to clean up cake crumbs and wrapping paper! You can even download our complimentary thank you notes to thank your guests for their gifts. 
Whether you're planning a kids' birthday party in Tallahassee or looking for a fun activity for a night out, we hope to see you soon and celebrate your special day at Skate World Center!