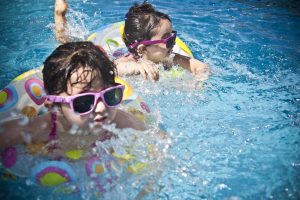 Summer may be winding down, but temperatures are staying in the 80's and 90's. With the scorching heat outside, kids may not want to be outdoors. Unfortunately, this causes them to be couch potatoes and watch television all day. That's why the team at Skate World Center put together a list of summer activities that your kids will love! It will get them moving and enjoying summer again (and may even help them reconnect with friends before they head back to school).
Camp in your backyard
Construct a tent indoors using blankets and chairs
Eat at a new restaurant
Finger paint new wall décor
Have a water balloon fight
Host a scavenger hunt
Make your own slip 'n slide
Paint the kid's bedrooms (with their help)
Play at a local park
Play board games
Roller skate at Skate World Center
Swim at the pool
Tackle a kid-friendly project
Visit a nearby zoo
Wash the cars
Even though school is quickly approaching, there's still time to have summer fun. Make it a point to check off everything on this list! Your kids will be glad you did, and so will you!
Checking off number 12? We want to make sure you get the best deal around. That's why we created a summer fun special just for you! Your kids will be having a blast and you won't break the bank. Check out our hours, then head to the roller skating rink today!