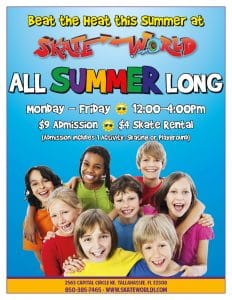 Moms and dads, school is out and FUN is in. If you're searching for a fun activity in Tallahassee, Florida, for your kids to do over the summer, look no further than Skate World Center. We want your kids to have the best summer ever! So, that's why we have an incredible special that we think you're going to love. Check it out:
Summer Fun Special
All summer long, the team at Skate World Center is hosting an incredible summer deal that is valid Monday through Friday. Admission to our skate center is only $9! Do you have a child that isn't crazy about skating or is too young to roller skate? No problem! Admission covers one activity: racing around the roller skating rink or playing at the playground. If you need to rent skates, the cost is only $4 extra. (Make sure to dress the kids appropriately to ensure they don't trip!)
Why Unstructured Play is Necessary
For roughly 180 days of the year, kids are in a very structured place: school. Their classes, lunch break, recess, and everything in between fits into a tight schedule. We understand that school must be that way to ensure maximum efficiency and productivity. But, after a long school year, kids are ready for unstructured play!
At Skate World Center, you can relax knowing that your kids are in a safe and fun environment. They will enjoy playing with their siblings and friends at the rink or playground. And, there are many benefits of unstructured play such as increased social skills, brain development, and more.
Are you ready to bring your kids to Skate World Center? Check out our schedule and head to the rink today!