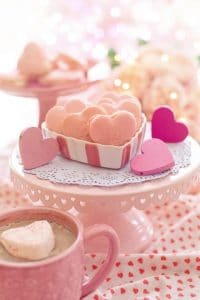 Cupid is stringing his bow, boxes are filled with chocolate, and florists everywhere are preparing for their busiest day of the year. Are you ready for Valentine's Day? If you're looking for fun and unique date ideas in Tallahassee, the skating rink is the place to be. 
Read on to learn why you should plan a roller skating date for your Valentine!
The Benefits of a Roller Skate Date
There are so many reasons to skate, but these are some of our favorites. 
The skating rink is never boring. 
Sure, you could get all dolled up, wait a million years for a table, and pay for an expensive prix fixe meal at a fancy restaurant. That's certainly what most people will be doing on Valentine's Day, but if you're willing to forge your own path and think outside the box, you and your date could end up having way more fun! There's nothing less romantic than waiting in a jam-packed restaurant lobby for a table, so skip the madness and choose a date that actually lets you enjoy each other's company. 
Music makes the mood and the memories. 
Another great part of going to the skating rink for a date is the built-in ambiance. Hold hands and skate the night away with your significant other under colorful lights while listening to your favorite romantic skate jams. For bonus points with your beloved, request "your song" from the DJ and get a little sentimental. 
Roller skating is an affordable date that's actually fun. 
It's easy to go overboard on spending for Valentine's Day, but when it comes to entertainment, there's no need to shell out for an expensive ticket. Roller skating is one of the most affordable things to do in Tallahassee! Admission is only $9, and optional skate rental is only $4. Combine skating with dinner at your love's favorite casual restaurant, a homemade picnic basket, or even a home-cooked meal to create a day of fun that you'll both remember forever. 
Roller Skating is for Lovers (But It's for the Rest of Us, Too)
Of course, while roller skating with your favorite person is pretty great—especially on Valentine's Day—not everyone is in a relationship. If you're single and don't feel like staying home on Valentine's Day, grab your best single pals and hit the rink for a night of fun and friendship. A Galentine's or Guylentine's Day with your best buds will remind you that these relationships are important, too. 
Go littlet kids? Don't forget to celebrate your little Valentines too! Join us for our Tiny Tots Valentine's Day Party on February 14th from 10 am to 1 pm. Admission is only $7, and includes 2 extra activities—hand print hearts and cookie decorating!