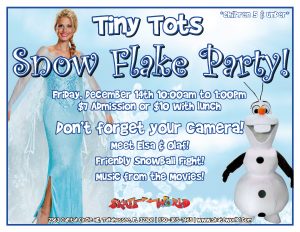 It's the holiday season and at Skate World Center in Tallahassee, FL, we have all kinds of cool things lined up for the month of December. Whether you're a pro skater or just beginning, there's always something going on at our roller rink!
Check out what's coming up and don't forget to take a break from the fun on the hardwood to try out our arcade or let the kids bounce around in our play area!
Homeschool Skate – Dec. 7th from 1 pm-4 pm. Admission is only $6 and it includes 2 activities. It's a perfect chance for our homeschooled kids to get together and make some new friends this holiday season!
Tiny Tots Snow Flake Party – Dec 14th from 10 am-1 pm. You pay a $7 admission or $10 with lunch special guests, Elsa and Olaf! Plus we'll be playing music from the movie Frozen and there will even be a "snowball" fight!
Winter Break Skate – Dec 26th, 27th, 28th, 31st, Jan 1st, 2nd, 3rd, 4th from 11 am-4 pm. Admission is $9 plus a $4 skate rental fee.
Make sure to make Skate World part of your holidays this year. We have so much going on and it's a perfect way to take a break form the stress of the season.
Roll by anytime to find out more about any of our holiday-season specials or regular open skating time. We're Tallahassee's best family-friendly activity center with fun for young and old! Roll by and party with us this December.