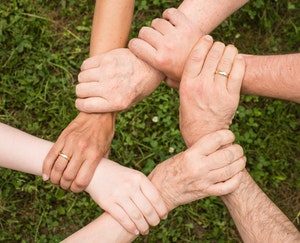 There are so many fun things to do in Tallahassee for the holidays, but don't forget that it's also the season of giving. As Thanksgiving approaches and we consider all we have to be thankful for, it's also important to think about ways to give back in Tallahassee. If you're looking for some inspiration for your holiday good deeds, check out our list of volunteer opportunities at local charities in Tallahassee. 
Cuddle for a cause at the Leon County Humane Society
Helping animals is one of the most fulfilling things you can do to give back to the community. All they want is some love and kindness, and they give it back a thousandfold. There are lots of ways to get involved in helping animals locally, from joining a TNR (Trap Neuter Return) team to socializing dogs and cats at the Leon County Humane Society. 
They always need fosters and volunteers, so sign up and see how you can help our fluffy friends! (And remember, animals are not toys; don't give pets as holiday gifts. Adopting an animal is a long term commitment—it's adding a family member.)
Fight hunger and feed hope. 
Hopefully your family has all the food you need, not just for day-to-day survival, but for holiday celebrations as well. Unfortunately, many people in Tallahassee and throughout our country do not, and those people are largely the elderly and children. While it's sad to think of people going hungry in a land of plenty, you can help make a difference. 
There are lots of ways to get involved in Second Harvest of the Big Bend, the area's largest food pantry. From sorting food and assisting clients to raising funds and collecting donations from restaurants and grocery stores, you can find a place in the fight to end hunger. 
Roll up your sleeves and get hands-on. 
Affordable housing can be hard to come by these days, with high rents and home prices shutting many families out of the housing market. That's where Big Bend Habitat for Humanity comes in! Their mission is to ensure everyone has a safe, decent place to live, and you can help make it happen. Check out their volunteer opportunities and find out how to help as an individual or a group. 
Building a Habitat house is a great group activity, so if you're looking for a way to give back as a family, school, team, scout troop, or church group, give them a call! You don't have to have prior construction experience, just a willingness to chip in and follow directions. 
At Skate World, we think giving back to the community is so important. That's why we partner with area schools on school fundraisers. Want to throw your own fundraiser for a local charity, your child's sports team, a neighborhood project, or any other cause that you're passionate about? We'd love to help you make your Tallahassee fundraiser a fun, memorable, and successful event, so give us a call at 850-385-RINK(7465).