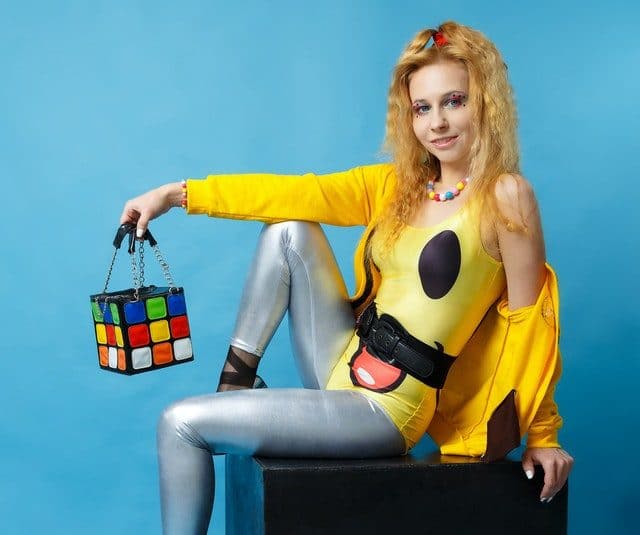 Unfortunately, we've all been stuck at home for most of 2020 thanks to the COVID-19 pandemic, but there has been one silver lining: The rise of roller skating Tik Tok. If you love to skate, or you're just looking for a 🔥🔥🔥 Halloween costume idea that's sure to turn heads, check out these roller skating Halloween costume ideas. Need some new wheels to take your look to the next level? We sell stylish skates for all ages and interests, including fun colors like purple glitter.     
Halloween Costumes for Skaters
One of the best things about roller skating Halloween costumes is that you can usually cobble them together with clothes you already own, items found at your local thrift shop, and/or a few select accessories from the local costume shop or Halloween store.  
Roller Boogie Babe 
When it comes to roller skating costumes, you can't get much better than roller disco for inspiration! Channel 70s style however it fits your personality best. Are you feeling glam? Edgy? Down-to-earth? One of these is sure to fit your style.
Knee socks, shorts (think track shorts, jorts, or gold lamé), and suspenders. Bonus points if your socks and suspenders are rainbow print! 

Jumpsuits or rompers in shimmery or metallic fabrics.

Shiny polyester shirts; the louder, the better.

Bellbottoms with retro t-shirts.

Classic punk or glam rock.
Retro Car Hop
If you're feeling more of a cutesy vibe, or you just really like Back to the Future, opt for a 1950s car hop look. Try a retro dress (look for "wiggle" or "skater" styles) with an apron, paper hat, and a tray of fake burgers and fries, or swap out the dress for retro slacks, a short-sleeve button-down shirt with a bowtie, and a sweater vest. If you're into the decade but not the squeaky-clean style, channel your inner James Dean with jeans, a black jacket, and a plain white tee, or take your inspiration from the Pink Ladies and T-Birds of Grease.
EXTREME 90s Roller Blader
If you're an "Elder Millenial" or just wish you were alive for the premier of Clueless, a 90s costume is the way to go. Make like a Surge ad and throw on some jeans, an oversized t-shirt, a flannel shirt, and a backward baseball hat for a grunge-meets-X-games look, or take your cues from a Delia's catalog with a babydoll tee, Windsor sunglasses, a tattoo choker, and space buns. Don't forget the body glitter and brown lipstick!
However you decide to dress up for Halloween, we hope you have a blast. Show off your costume at one of our Tallahassee skating events or book our skating rink for your own private party!