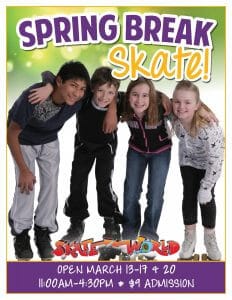 It's March, can you believe it? It seems like just the other day we were ringing in the new year. March means that spring break will soon be here, and you know what that means… when school's out, we're open! Don't let spring break pass by without rewarding the kiddos for their hard work in the classroom this year with a trip to Skate World Center!
Join us for some spring break fun on March 13 – 17 and 20 from 11 am to 4:30 p.m. Whether you're looking to reward the kiddos for all of their hard work in the classroom or looking to play the perfect play date, Skate World Center is the perfect spring break destination for you and the kiddos in Tallahassee, Florida!
All skaters are welcome, beginning and professional, and if you need a break from the skates, check out our arcade, grab a snack, or swing around in the play area. This spring break, bring the entire family together with a great way past time, roller skating! If you're looking to get healthy as a family, roller skating is a great way to do that! Health Fitness Revolution has said that health benefits like strengthening the heart, improvement of balance, agility, and coordination, and improved endurance can result from roller skating.
For more information about admission or party bookings at Skate World Center, visit our website or give us a call at 850.385.7465. Do you enjoy rolling with us at Skate World Center? Rate and share your experience with us in the review section of our Facebook page today. We always enjoy hearing from you!