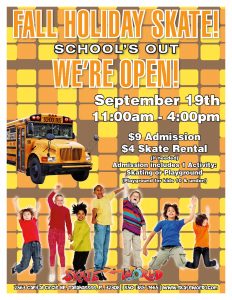 What are your plans for the upcoming holiday? Schools might be closed on September 19th but we're not! Come celebrate a day off with us at Skate World Center in Tallahassee, FL. We'll be having fun all day with great specials.
School's Out Specials
So here's what's going on at Skate World on the 19th of September.
From 11 am to 4 pm, we'll be having an open skate and party. Admission is on $9 per person and includes one activity. You can choose between our awesome playground or hours on our skating floor. Our playground is perfect for kids 10 and under. Skating is open to all ages. Skate rentals are an additional $4.
Fall Break at Skate World
We'll also be having specials on October 12th when schools out again! With the same great deals as this coming September 19th, it's another great day to skate and play with us when school's out.
Birthdays and More
At Skate World, we specialize in special days. Holiday parties aren't the only thing we're great at. Our birthday party packages are awesome too! Do you have a little one with a big day coming up? Our party packages start as low as $159 for 3 hours of fun with your birthday boy or girl and 10 of their best friends!
Roll into Skate World Today
Give us a call or roll by to find out more about our private parties, holiday specials or just to have a good time at our roller skating center. We're the place to be in Tallahassee for days off school and special birthday events!