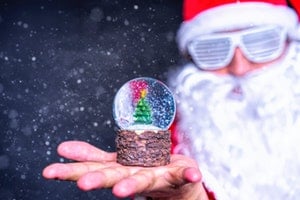 It's hard enough to believe that 2019 is almost over, much less that a whole decade is coming to a close! Fortunately there's still time to cram a few more fun family outings in before 2020 arrives. Read on for some reasons why you should make time for family fun despite the holiday hustle and bustle, and check out our upcoming December events in Tallahassee. 
Stuff is temporary; memories are forever
Everyone loves a good present, but don't get so caught up in the hectic holiday grind that you forget to enjoy the very people you're shopping for. Adults and kids alike can get stressed out during the holidays, so making time for physical activity and free-range fun is crucial. Roller skating is a great way to balance out one-too-many cookies or cocktails at the office holiday party, and because it's a good aerobic workout, it also relieves stress. 
Keep in mind that this year's coolest toy or hottest tech gizmo will lose its luster, but the memories you make with your kids, partner, siblings, parents, friends, and neighbors last forever. In fact, science even backs this up; according to researchers, people who spend money on experiences rather than material objects report feeling happier and more fulfilled. 
Don't miss these December 2019 events at Skate World
Tiny Tots Snowflake Party
Friday, December 13th

10:00 am to 1:00 pm

Admission $7, or $10 with lunch!

Parents, you will not want to leave your camera at home for this event! There will be photo ops with Elsa and Olaf, a friendly snowball fight, music from the movie soundtracks, and much more. 
Winter Break Skate
December 23rd, 26th, 27th, 30th, 31st, and January 1st-3rd

11:00 am to 4:00 pm

Admission $9, $4 for skate rental

Admission includes 1 activity: Skating (all ages) or the indoor playground (kids 10 years and younger). 

Make the most of the school break; meet your friends at Skate World instead of wasting your days on the couch at home. 
Noon Year's Eve Balloon Drop and Kids' Skate Party
Tuesday, December 21st

11:00 am to 4:00 pm

$9 admission (includes 1 activity—skating OR playground for kids 10 and under. If needed, skate rentals are available for an additional $4.  

Celebrate the new year (a little early) at our kid-friendly New Year's Eve party in Tallahassee! We'll have hats and horns, a balloon drop at 3:00 pm, prizes, and much more! 
Mark your calendar for our December skating events, and be sure to invite your friends—the more, the merrier! You can also follow us on Facebook to stay up to date on our latest events, announcements, and specials.