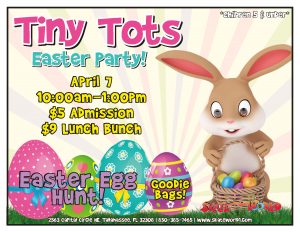 Spring is officially here and that means it is time to have some fun at Skate World Center in  Tallahassee, Florida! At Skate World Center, we love being the one place where the entire family can have a great time rain or shine. This is why we have an entire month of fun planned for April. Take a look at our upcoming events, then mark your calendars!
Tiny Tots Easter Party
April 7, 2017
10 a.m. – 1 p.m.
$5 Admission and $9 Lunch bunch
*There will be an Easter egg hunt!
Homeschool Skate
April 7, 2017 (Every 1st Monday of the month)
1 – 4 p.m.
$6 Admission
*Includes 2 activities
Tiny Tots (Ages 5 and under)
April 21, 2017
10 a.m. – 1 p.m.
$5 Admission and $9 Lunch bunch
*Create a handprint calendar for mom or dad, and participate in rainbow parachute activities.
These are just a few of the events that we have planned at Skate World Center. Always be sure to check back to our events page in order to stay up-to-date with what's happening at the rink and be the first to know about upcoming events.
For more information about admission or party bookings at Skate World Center, visit our website or give us a call at 850.385.7465. Do you enjoy rolling with us at Skate World Center? Rate and share your experience with us in the review section of our Facebook page today. We always enjoy hearing from you!