Are you looking for a fun and exciting activity for your child to enjoy? If so, roller skating is the ideal solution. Skating is a lot of fun and it's great exercise too. Best of all, your child can learn to skate right now with affordable roller skate lessons at the Skate World Center in Tallahassee, FL.
Beginner Roller Skate Lessons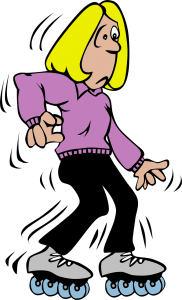 If your child doesn't know how to skate at all, or he/she is just starting to skate, the beginner roller skate lessons are a great place to begin. Kids can learn to skate on the carpeted area and advance to the actual skating floor when they are ready. Kids can remain in the beginner class until they feel comfortable skating forward by themselves. Classes are held Saturday morning and kids can stay afterwards and skate for free until 1:30pm.
Advanced Roller Skate Lessons
The next phase is the advanced roller skate lessons at Skate World. Your kids can choose the artistic Advanced Skating Class, where they will learn how to skate backwards, jump, twirl, and spin, or the Speed Skating Class, where they will focus on improving their skating speed. Artistic Skating classes are held on Saturday mornings, while the Speed Skating classes are on Monday and/or Wednesday evenings.
Roller skate lessons in Tallahassee, FL at the Skate World Center let your kids to have fun socializing with their peers while learning new skills at the same time. Contact the Skate World Center today to register your child for roller skate lessons.