It's the age-old question among roller-skaters: quad or inline? Quad skates have that classic, carefree vibe that makes skating so fun, while inline skates are popular with athletes and skaters who can't let go of the 90's (we understand). If you're not sure which style of skate is right for you, read on. We breakdown the key features of each skate in this quad vs. inline skate guide.
Quad Skates
Quad skates have four wheels arranged in a box under the skater's feet. The boot is made of leather, giving skater's increased flexibility. They're popular with a wide range of skaters, and because of the stability afforded by the box base, are generally a good pick for young kids learning to skate.
Box wheels provide sturdy base

Side-to-side support for better balance

Flexible ankle support helps with mobility

Rubber toe stop for braking

Designed for indoor skating

Slower than inline skates

Preferred by roller derby skaters and artistic skaters (jam skaters, etc)
Inline Skates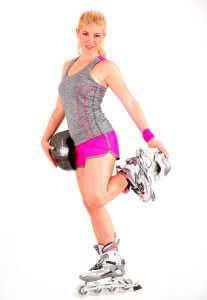 Inline skates have 4-5 wheels arranged in a straight line down the center of the boot. The boot is made of hard plastic. Because of the wheel arrangement, beginner skaters often find it easier to get moving on inline skates, although they may struggle with side-to-side balance.
Wheels arranged in a straight line for front-to-back balance

Hard plastic boot provides solid ankle support, reducing the chance of injury

Brake on back of the skate (*some inline skates do not have a brake)

Designed for indoor or outdoor skating

Made for speed

Preferred by speed skaters and trick skaters
Still not sure which skate is right for you? Give them both a try! At Skate World Center, we have both quad and inline skates available to rent. Try one skate on Friday night and the next during Saturday matinee. Once you've decided between inline and quad roller-skates, master your wheels at our beginner and advanced Tallahassee skate lessons.