At Skate World, we're passionate about creating fun, engaging experiences for every kid in Tallahassee. We have birthday parties, STEM educational field trips, Tiny Tots for our littlest skaters, and fun monthly events like Home School Skate to guarantee everyone has a great time. But some kids have more needs than others . . . and they deserve to skate just as much as everyone else! Skate World is excited to announce a brand new way to play: Sensory Friendly Skate Nights.
Sensory Friendly Fun in Tallahassee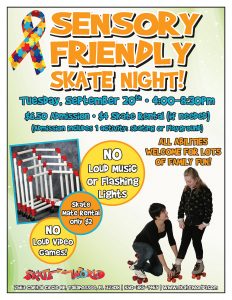 Some kids have an increased sensitivity to stimulation. This makes it difficult for them to take part in many of the activities their friends, siblings, and parents love. At Skate World, we know how important it is for kids to engage in fun activities like roller-skating. That's why we're rolling out Sensory Friendly Skate Nights. Kids with autism, Down syndrome, or other sensitivities to light and noise are invited to strap on their skates and hit the rink, just like everybody else! What can you expect at these minimal-stimulation skate nights?
No loud music while you skate

No flashing lights

No loud sounds from video games and arcade games

Quiet areas for kids who need a break

Skate Mate rentals to help kids learn to skate (just $2)

Access to the playground for kids who don't want to skate

Plenty of space to play for kids of all abilities
We're planning regular Sensory Friendly Skate Nights this fall. Our next event is on Tuesday, September 20th from 4-8:30pm. To learn more about sensory friendly options for kids in Tallahassee, call Skate World Center.