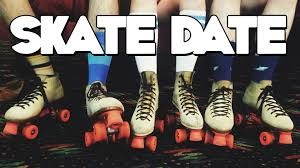 With Valentine's day nearing, people are beginning to plan special date nights. In 2019, dinner and a movie for two is well over $100.  A date at Skate World is $17.00 per person for two activities and skate rentals. Enjoy a night out without breaking the bank.
What's stopping you from trying something new with someone new? Trying new things has a ton of benefits for you mentally and emotionally. It invigorates creativity and gives you a fun new memory while getting you out of your comfort zone.
Take a step back into your childhood and have a laughter-filled night. Roller skating takes a bit of practices, so if your date can be goofy with you during a night of roller skating, then they're a keeper!
Do something you enjoy.
Don't just talk, get moving.
Go with the flow.
Ask thoughtful questions they'll love to answer.
Give yourself good date karma by being polite, no matter how well you click (or don't).
Check your check etiquette.
Save the serious stuff for when you're alone.
Stay informed about current events — they're great conversation starters.
Wear something they will love.
Be open. Be yourself.
Scroll through our upcoming events and schedule to find an event for you! If you want to get in some practice before Valentine's Day, come to any of our open skates or even take one of our beginner lessons every Saturday morning.
If your 2019 Valentine is a young son or daughter, join us for a Tiny Tots Valentine's Party on February 8th from 10 a.m. to 1 p.m. We will be making Valentine's cookies, heart hands, and we even have a lunch bunch option.
So regardless of who your Valentine is, we have a way to celebrate for everyone. Get your heart eyes ready and roll on by!