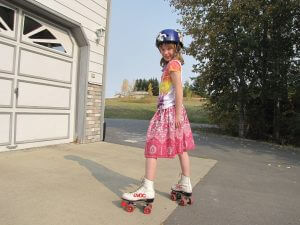 Roller skating is an incredibly fun sport that not only keeps you healthy but happy, too! If your little one hasn't tried roller skating yet, there's no better time than the present to teach your child how to roller skate.
Consider these three helpful tips before teaching your child how to roller skate:
Learn the roller skating basics.
Skating is all about balance. If your child keeps his knees bent and leans slightly forward, his center of gravity will help him stay upright. Then, have your child walk in his skates. (This may be where a few falls occur, so make sure to hold his hand). After he feels confident walking, encourage him to glide! With his feet gliding one at a time in a forward diagonal direction, your little one will be skating the day away in no time! Check out more roller skating basics including the different ways to stop.
Stay safe while roller skating.
Safety is key when trying out a new sport. Make sure to dress your child appropriately with a helmet, wrist guard, and knee and elbow pads. Safety gear will soften the landing if he falls and protect important parts of his body. The first several times your child starts roller skating, let him practice on grass or carpet. This will help him master gliding in his skates before stepping onto the rink.
Confidence is everything.
When your little one is trying out roller skates for the first time, he may be nervous and insecure. If he falls or is having trouble getting the hang of it, encourage him to continue! Tell him a funny story about roller skating or remind him that no one mastered roller skating the first time they put on skates. Over time and with practice, your child will be able to skate with confidence.
Do you want extra help teaching your child how to roller skate? Sign up for our beginner skating lessons! Lessons cost $9, and are on Saturday mornings from 9:45 to 10:45. Feel free to contact us with any questions you may have!