There are many levels of roller skating mastery: beginner, intermediate, and pro. If you're starting to feel bored in your skating routine, it might be time to switch it up! People may forget that there's more to roller skating than just spending time at the rink—there's also outdoor roller skating and ramp skating. If you're feeling in a rut with your favorite hobby— or you just want to add some extra shine to your rink time—have no fear. We're coming to the rescue to share some less common roller skating activities and what makes them so unique.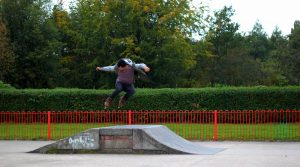 The Differences Between Indoor Skates and Outdoor Skates
Indoor wheels cater to the smooth hard floor surface. Outdoor skates are rougher to better handle the uneven ground outside.
Outdoor wheels are much larger than indoor wheels.

Outdoor skates need to be able to handle any bumps or rocks that may come through the skater's path. 

Outdoor skates wheels are about 60-77 mm tall where indoor skates are 55-60 mm.
If you're new to roller skating, indoor might be your best bet.

The surface area in roller rinks has even consistency. 

When

skating outdoors

, you have to be cautious of and sticks, rocks, or animals passing through your path. You might get knocked off your feet if you haven't had enough practice.
The Differences Between Outdoor Skating and Ramp Skating
Ramp skating

can be rough on your skates.

There's a lot of wear and tear when it comes to ramp skating. If you have cheap skates, it might be time to upgrade.

Ramp skating can be intense.

When you're doing regular roller skating, whether indoors or outdoors, the surface is somewhat level. There may be a hill here and there when you're skating on a path outside, but when you're skating on a ramp or bowl, roller skating just got a lot more extreme.
Whether you're indoors, outdoors, or on a ramp, roller skating takes time and practice. In case you want to venture out of indoor roller skating, we have some tips on how to properly fall because it will happen. Just make sure you are putting your safety first!
Having the determination to try something new and seeing yourself get better at it can be so rewarding. Are you up to the challenge?